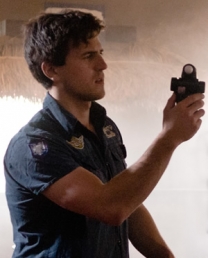 Mark Kenfield
Colourist, DOP, Editor, Editor / Shooter
Melbourne
BIO
An Emmy-nominated Cinematographer and the winner of the Australian Cinematographer Society's 2017 Emerging Cinematographer of the Year Award. With his background as a writer, story is the primary driver in Mark's work, and the result is images that capture more than just movement and light. Since graduating from The University of Melbourne's School of Creative Arts, he has shot a broad range of projects both locally and overseas; from narrative to commercials, music videos and branded content.
He has just wrapped the Chinese/Australian comedy series "Girl, Interpreted" for NG Pictures and Screen Australia. And is nearing completion on post-production for the Bollywood picture 'Zia', starring Academy Award Nominee Eric Roberts. Other recent projects include the multi award-winning first-person horror film '2:00am'; the quirky romance 'The Sound of Love'; sci-fi action thriller "The Last Man"; and the gruelling true story 'Ghost', about the incredible life of the convict William Buckley.
Mark also shot the Australian segments of the hit UK TV Show 'Laugh Out Loud', and is a Full Member of the Australian Cinematographers Society.