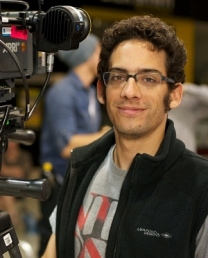 Mark Broadbent ACS
Camera Department, DOP, Stills, Timelapse, Underwater
Brisbane / Gold Coast
BIO
Mark's passion for photography and cinematography all began when at the ripe old age of 7 he received his first camera – a blue Fisher Price 110 film camera. It was love at first sight and whilst his toys may have gotten more sophisticated over the years, Mark's passion for photography hasn't waned. Mark's discovery of cinematography at 15 when he started studying Film and Television at high school set him onto the path he is on today; combining his loves for both photography and cinematography into a successful career.
His credits vary from feature and series documentaries, commercials, drama including two features as well as numerous music videos and brand films. His work has taken him all over Australia as well as international shoots in the UK, Ireland, USA, Samoa, South Korea, Malaysia, Thailand, PNG, Solomon Islands, Fiji, Tonga, Vanuatu, Iceland and Antarctica.
Recent projects Mark has been involved in have been wide ranging and include shooting director Kriv Stenders (Red Dog, Danger Close) passion project – "The Go-Betweens: Right Here", History Channel series "Uncharted – In the Wake of Captain Cook with Sam Neill", "Wik vs Qld" for NITV and "Brock" for Universal. He is currently in production on "Alick and Albert" for Stan. In additional to long form projects Mark has continued to shoot a number of TVC's, music videos and corporate productions.
Along with traditional cinematography work Mark also specialises in underwater cinematography with a large range of housings and camera options.
Mark's personable manner, down-to-earth approach and can-do attitude have enamored him with cast and crew alike.