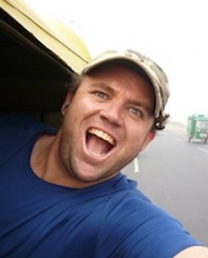 Brigham Edgar
Aerial, Camera Department, Camera Operator, DOP
Brisbane / Gold Coast
BIO
Brigham Edgar has been full time in the film and television Industry for twenty years working for some of the world's leading broadcasters and producers. Over this time he has worked within a myriad of genres from Sport, Lifestyle, Comedy, Entertainment, Magazine, Reality, Observational documentary, Children's, Corporate, Documentary, Outside Broadcast and Drama to name just but a few. His work and personal life have taken him around the world to over sixty countries. From the Sahara to the Amazon basin his experience in cultural, natural and politically sensitive environments have brought to him qualities and attributes that can be brought to bear in the most unlikely events both in a professional and personal environment.
Achievements and milestones throughout his career have been varied and many. While professionally Brigham is certainly not one for 'chasing down' personal awards, he has been personally presented with multiple ACS awards. To add to these his credits are also littered with multiple BAFTA, EMMY and Australian AACTA award winning productions.
In 1993 at the start of his career he spent two years as a camera assistant in Brisbane before moving into the ever demanding world of regional television, based out of Townsville. After six years full-time at WIN Television gathering and learning substantial multi roll skills and with the highest possible grading of a Senior Cine-Cameraman, Brigham entered his freelance career in 2000 by moving to the United Kingdom. His work spoke for itself and he quickly gathered a reputation for highly polished work undertaken in a professional, friendly and efficient manner. The majority of his work being for the BBC he was offered staff positions on many occasions though chose to continue freelancing to further his experience and opportunities throughout different genres and to work with a host of different producers and world leading television production companies and networks based in the UK and Europe.
In 2004 he returned to Australia and his hometown of Brisbane and has set himself for the long term. Since returning his career has continued to flourish and his credits have been from working as a Camera Operator on major International multi camera broadcast events and television series, lighting Cameraman for major network productions, and most notably as a Director of Photography covering numerous genres.
One of Brigham's big passions is technology and the ever changing environment in this era. Owner operator of multiple camera formats combined with such passion for the finer details and greater technical appreciation of many camera systems gives him a clear edge in the understanding of the technology and obtaining the pristine