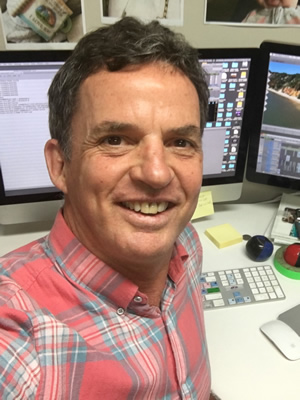 BIO
Tim is an award-winning video editor who has worked in broadcast television in Australia, New Zealand and the U.K. for over 30 years. Chances are you've seen his work on air – in highly-esteemed current affairs programs like Australian Story and the Nine Network's late great Sunday, or high-rating reality shows like Masterchef, House Rules, The Voice and The Bachelor, or one of the 7 Network's popular factual programs, including Border Security, The Zoo, RSPCA Animal Rescue and The Force.
Tim has a reputation in the industry for his unflappable nature in the edit suite, his speed of decision-making, his knack for finding just the right piece of music for any given situation and most of all his ability to make the best use of the available material to tell a story.
In recent years Tim has worked on many shows as a producer/editor, and he is a competent script writer (and self-confessed grammar nazi!).  He has been cutting on Avid for over 20 years, and also cuts on Premiere Pro and Final Cut Pro.