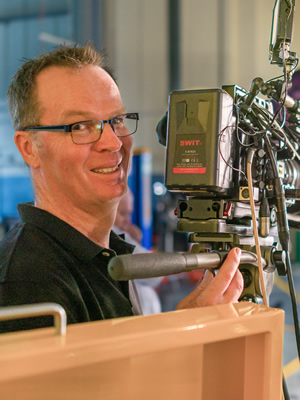 Tim Bradley
Camera Department, Camera Operator, DOP, Live Stream
Brisbane / Gold Coast
BIO
Professional and personal – that's what Tim Bradley strives for. He cuts through the crap to deliver brilliant images – without the stress.
Tim is a cinematography specialist with over 20 years' experience in video and TV. He started his career in a large post-production house, Omnicom, and then entered the freelance world – and he hasn't looked back. Since then, Tim has lived for the buzz he gets from producing great imagery.
Tim's focus is to create cost-effective solutions for clients. He has worked with companies and organisations of all sizes – from small-to-medium through to large multi-nationals – and across many genres (TVCs, corporate videos, and live-streaming).
He has the expertise and experience to scale his services depending on the shoot style and clients' needs. He specialises in producing great visual images – from video content to live-streaming. Put simply, he delivers brilliant images without the hassle and stress.
Tim works directly with businesses, organisations, agencies and production companies. He loves to bring creative visions to life by combining his love of images and knowing how to compose and light what needs to be captured. He's passionate about his work and is dedicated to producing high-quality images on time and within budget.
Tim's key strengths are versatility and enthusiasm. He has the ability to visualise and capture the ideas of directors – and within producers' timeframes. Whether working under a director, solo, or with a large crew, Tim always delivers consistently high-quality imagery – whatever and wherever the assignment is.
He also prides himself on being at the cutting edge of innovation. All his equipment has been specifically chosen for its versatility. It includes the latest top-of-the-range cameras (Sony F5 Sony FX6, Sony a7RIII ), carbon fibre tripods, extensive lighting gear, sound equipment, live-streaming gear, and many other accessories.