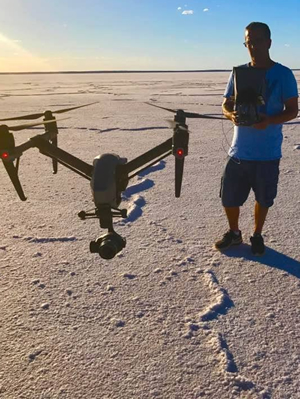 Scott Last
Camera Department, Camera Operator, DOP, Drones, MOVI, Timelapse
Sydney
BIO
Scott is a Sydney based Cinematographer that has worked on a varied and extensive range of projects over his 15 years in the film & TV industry including – Documentaries, Travel and Lifestyle shows, TVCs, Branded Content, Corporate Films and Live OB's.
With a careful eye for detail and creativity, Scott delivers engaging images that advance your story and stylistic approach, within budget and on schedule.  With a diverse skill set he is very happy collaborating with a larger crew or filming as a one-man band shooting, directing and editing a project.  Being involved with speciality cameras (drones, gimbals, motion timelapse & gopros) can also add value to a production being an additional shooter plus specialty cameras
Scott has coordinated and filmed countless location interviews, often with minimal crew and short setup times. Scott's personable manner, down-to-earth approach and being committed to achieving the producer's objectives makes him a popular choice with clients.
Scott is also a fully licensed CASA Drone Operator who can provide aerials for any shoot he is on or work exclusively as a drone operator. Jobs can be undertaken with 1 or 2 man crews and he can tailor the right camera and drone package for the job at hand.
Currently the drone of choice is the Inspire 2 with both X7 and X5S cameras and a full kit of lenses, recording both Apple pro res & Raw cinema DNG, also owns a Phantom 4 pro.