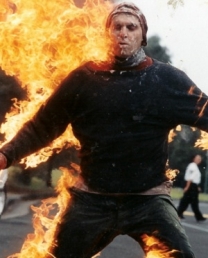 Michael Hodge
Safety Supervisor & Stunts
Sydney
BIO
Stunt coordinator & Safety Supervisor
VEHICLES.
Motorcycles.
Motorcycles – 11
years road racing
4 years professional superbikes
Formula 1 Europe
Formula 1 USA
Open class production
Onboard camera high speed bike to bike filming
Wheelies – stoppies – burn outs – high speed knee, elbow down cornering, Lay Downs.
Extensive testing of bikes for media worldwide.
Motocross 4 seasons; 6 national competitions
Ramp jumping, 80 ft
CARS.
Professional test driver for Wallons UK ( Ford, Rover, Fiat, Peugeot, Range Rover).
Two defensive police driving courses in the UK covering evasion, punch through, high speed reverse.
Raced in numerous charity events.
Hand brake turns, 360's,180 degree reverse in forward out and visa versa.
High speed vehicle to vehicle proximity driving.
All aspects of precision driving. Rated in the top 10 in Australia.
Vehicle transfers – car to car – bike to car .
Vehicle and ramp preparation for car rolls.
Numerous t-bone and car to car crashes for camera.
WATER.
Rescue and safety diver graded
Rescue and life saving experience.
Boat and PWC Licenses.
Diving and dive safety – open water and tank
UK Open water diving license and Australian PADI licence.
Crewed several cross channel and Mediterranean crossings – yachts up to 25 meters.
Canoeing and white water rafting grade 8.
Military experience – trained on Challengers, Chieftains, Scorpions and APC.
Full small arms training on SMG, GPMG, SLR. Marksmen with SLR and Semi-automatic .45
Un armed and armed combat trained
Risk assessment and breakdown, situation analysis and target/ goal accomplishment.
Grenade throwing and mortars, completed numerous confidence tests – E & E courses.
Static line parachute jumps.
Civilian- Rifles and shotguns at competition level. Won the 'magic mile' at Singleton
Licences, Degrees and Grading
Stunt Performer
USA Expert Motorcycle Licence
European Competition Licence
Bike & Drivers licence
PWC Licence
Diving Licence Open water
Boat Licence Australia
1st Dan Lau Ga Kung Fu
Senior St Johns First Aid Certificate
Economics Degree
Qualified Tree Surgeon
Firearms Licence – rifle and pistol
Certified firearms instructor
OH&S Risk Assessment level IV