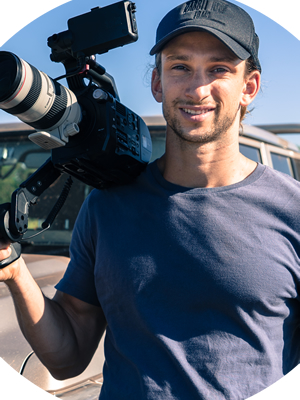 Matt Deavin
Camera Department, Camera Operator, Editor, Editor / Shooter
Sydney
BIO
Matt is a young, yet experienced videographer based out of Sydney, Australia. His ability to shoot, produce and edit gives him a unique eye that showcases the best of his client's story. Matt's friendly nature allows for a collaborative experience right through from pre to post production.
Throughout his career, Matt has covered a variety of genres, ranging from celebrity profiles, drama, comedy, business, wildlife, sport, science and human interest.
Matt's experience over the years has seen him work with some high profile clients such as Qantas, Rolex, Tourism Australia, Disney, Audi, Mazda, Getty Images and Sky News. Specialising in high quality documentary formats, Matt's passion is to tell human stories, coupled with beautiful images. However, whilst documentaries are his passion, Matt has had extensive experience on many different projects, ranging from TVCs, live events, Tropfest finalist short films, television programs and multi-national campaigns. Priding himself on being a 'Jack of all trades' Matt enjoys the variety of his work.
Matt's skills across audio, lighting, editing and shooting make him a valuable asset to a production that is looking for a smaller crew. Working for years as a solo operator, Matt has the ability to work independently but the experience to collaborate with larger crews, should the job dictate it.
Passionate, reliable and committed to delivering exceptional content, Matt's competence coupled with his interpersonal skills guarantee excellent results.