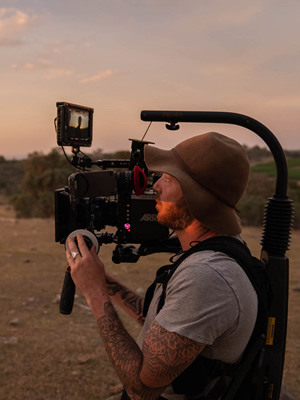 Joshua Zaini
Camera Department, Camera Operator, Director, Director / DOP, DOP
Brisbane / Gold Coast
BIO
A highly creative and multi award winning Cinematographer and Director of over 15 years, Josh's career is comprised of a unique blend of experiences. His work has spanned international prime time Television Series and Documentaries to Advertising, Comedy, and Drama.
His early career took him around the globe, creating films for National Geographic, Discovery, Animal Planet, NBC and ABC to name a few. Josh's reputation for creating authentic and beautiful imagery lead him to projects in some of the most remote and extreme parts of the world. From discovering lost tribes in the Kenyan wilderness, rescuing dancing bears in the Transylvanian mountains to hand digging his own bed in the Antarctic snow, and dodging mortar attacks in the middle east.
At 24, while embedded with Australian Military in Afghanistan, Josh came under rocket and machine gun fire from Taliban militants. He went on to be nominated for a Logie for his cinematography on the film, and won national cinematographer of the year in the documentary category.
Josh turned his focus to advertising in 2013 and had since created content for some of the most recognisable brands and agencies in the world, from Sony Pictures, Universal, Cisco, Nickelodeon, Suncorp, Red Bull and Tourism Australia, winning multiple awards for both direction and cinematography at a state and national level.
Josh is extremely passionate about his craft and creating visually striking and powerful films. His technical acumen, experience and creativity ensure a world class product, while his calm demeanor and friendly nature ensure he is always a pleasure to have on set.