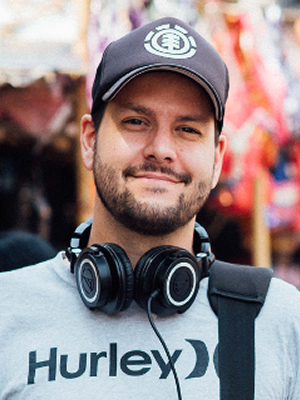 Joseph Dutaillis
Audio Engineer, Boom Operator, Sound Recordist
Sydney
BIO
I love sound.
I love the way it can tell a story. The way it can evoke the deepest of emotions, conjure the fondest of memories, and transport the listener through a world of imagination.
I'm a freelance sound recordist, sound designer, and sound mixer based in Sydney, Australia. With over 10 years' experience specialising in sound for picture, I endeavour to create immersive soundtracks that support and drive films; that subconsciously captivate and thrill the audience. I believe that a great soundtrack starts at the first word penned on a script and carries right through the entire filmmaking process to the final tweak of a fader in the final mix. I'm equally at home on location or in the post-production studio and with extensive experience in both arenas I bring a wealth of knowledge to any production, knowing just what is needed to get the best result.
My work has found me on just about every platform you can find sound in. I've recorded, sound designed, and mixed for film, television, online, radio, and podcast; I've even dabbled in VR and video games. Past clients include some of the world's biggest brands: Apple, Microsoft, Disney, Red Bull, and Coca-Cola. I have also worked with some of the biggest names in Australia, including Telstra, Optus, ANZ, AMP, CBA, Fox Sports, ABC, SBS, Channel 7, and Channel 10. In the film world I've worked on over 30 short films and three feature films, which have screened in over 100 unique festivals across the world, picking up multiple awards along the way.
I love to travel and I'm lucky enough to have recorded sound around the world, including work in India, Nepal, Cambodia, right across the USA, England, Ireland, France, Germany, Spain, Italy, Greece, and Israel. Not to mention right across Australia, from frying in the scorching suns of Western Australia, to soaking in tropical rainforests in North Queensland, and wading waist-deep through the swamps and floodplains of the Macquarie Marshes in NSW, surrounded by red belly black snakes (ask me about that one some time!).
Mum loves to tell people about my first school report where the teacher wrote "Joseph has a calming effect on the class". I like to think I've carried this trait right through to adulthood and bring a calm demeanour to any situation. I'm a motivated and hard-working team member and I hope we can work together soon.
Joseph Dutaillis
Sound Recordist | Sound Designer | Sound Mixer