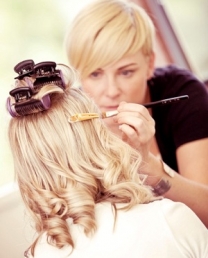 Hayley Mac
Hair & Makeup Artist
Melbourne
BIO
Hayley Mac is a professional freelance Hairdresser & Makeup Artist. Her extensive experience has seen her travel many avenues within the editorial, fashion advertising and photography, TVC's, corporate, publicity and bridal industries. She has been involved with Australian fashion magazines for multiple years and has lent her talents to Australian Fashion Week and the TV Week Logies, while also working with some of our best celebrities.
Hayley is very passionate about her job and this reflects in her work. Through her fresh style and approach to hair & makeup she has made her trademark within the industry.
She has always believed in keeping makeup simple, but simple doesn't have to mean boring. Her philosophy is uncomplicated— less is more, beauty is simplicity.
Hayley Mac is a skilled professional with high personal values and exudes a relaxed personality that when mixed with her talented creative flair has enabled her to build wonderful relationships and an excellent rapport with the clients she has worked with.
She has the innate ability to enhance your features to their full potential whilst endeavouring to bring out the natural beauty within everything she does.