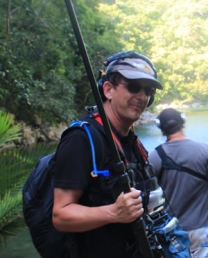 Dave Sims
Boom Operator, Sound Recordist
Sydney
BIO
Location sound recording for doco, reality, drama, indy film, TVC and corporate productions with 8 years experience.
Most recently working in the field of Ob-Doc, recording sound for Air Rescue, Embassy Asia and Outback Wrangler, Dave has also worked on Survivor, ran three Amazing Races, as well as three years of Foxsports NRL doing sideline audio.
He does lots of press junket interviews and corporate videos. As a hobby Dave has shot and edited 12 half hour episodes of Channel Cheese for community TV44 (31).
Kit includes Zaxcom wide-band, recording radio mics.