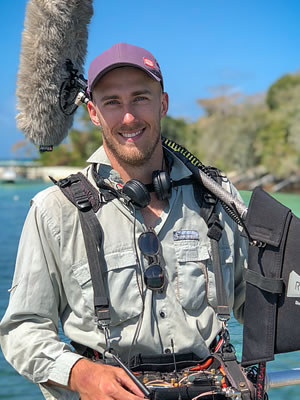 Brett Stayt
Boom Operator, Drones, Sound Recordist
Brisbane / Gold Coast
BIO
Brett is a freelance sound recordist and CASA certified drone operator based on the Gold Coast, Queensland. Brett operates locally to The Gold Coast, Brisbane, Sunshine Coast and Byron Bay areas. A 4WD crew car is available for accessing remote/off road areas. At a moment's notice, Brett's kit can be packed into flight cases and ready to travel across Australia and Worldwide.
Brett has been working in the Film & TV industry professionally for over 10 years. Armed with some of the latest gear from Sound Devices, Zaxcom, Lectrosonics and DJI, he has a modern approach to film making, while maintaining some old-school techniques, working with a massive variety of crew, on various projects.
Brett is available to work as a sound recordist or drone operator, or covering both roles on certain projects. As a drone operator, Brett can operate solo, or with the DOP on production as the gimbal op. He has various drones to suit different jobs and budgets, ranging from a DJI Mavic Pro 2, right through to a dual operator DJI Inspire 2 kit, with a 6K CinemaDNG capable Zenmuse X7 camera and multiple lens sizes.
Pro-active, yet easy going, Brett is a professional crew member who will work hard to get the best result possible.
Brett is CASA certified, an ReOC holder and has PL Insurance of $20 million. CASA.ReOC.0702