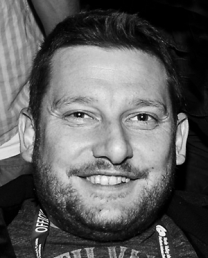 Bill McGuire
Animator, Editor, Motion Graphics, VFX & Compositing
Sydney
BIO
Bill McGuire is an award-winning VFX all-rounder, motion graphics designer and animator.
An experienced freelancer, his work includes clients such as Fox Sports, ABC TV, Discovery Networks, Movie Extra, Umeric and Jungle Boys, and work on features such as "The Reef" (2010).
He has extensive skills in CS5 & CS6 with particular strengths in After Effects and Photoshop, plus over ten years of experience with 3ds Max.
Originally hailing from Brisbane, he studied at QUT and the State University of New York before moving to Sydney in 2006. His resume includes work on ABC TV programs such as "Catalyst" and "Good Game", shooting and creating Fox Sports' "NRL 360" opener and additional graphics elements, plus a large number of TVCs, corporate videos and Screen Australia shorts.
In 2008 he was nominated for an Australian Film Institute Award, and he later won two Australian Production Design Guild Awards for Visual Effects in both 2011 and 2012.
Bill prides himself on fast problem-solving, with a dedication to delivering slick, aesthetically pleasing motion graphics and effects.
As a member of the Australian Directors Guild, his numerous directing credits are a testament to his ability to take a comprehensive approach towards any project – regardless of role – with a focus on integrity and cohesion, while staying true to creative briefs and working smoothly with others.
He has years of experience working onset as a VFX supervisor as well as in other roles.  His short films have found international success on the festival circuit, with "To The Last Drop" screening at festivals such as the Sedona International Film Festival and the White Sands Film Festival in the USA, plus the War On Screen Film Festival in France.
In 2011 he won the Live & Love Short Film Competition for co-directing the TVC "HSV Handbook".
He is based in the Sydney CBD and has his own equipment.