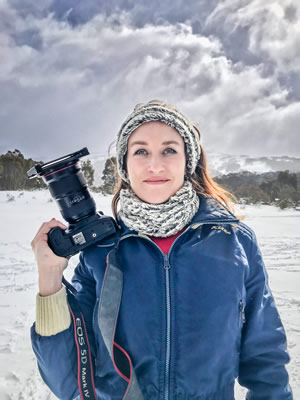 Annabel Osborne
Camera Department, Stills
Sydney
BIO
An AFTRS, UCLA and ACP graduate, she specialises in production stills, portraiture, fine-art landscapes and her big love – dog photography.
She's currently shooting stills of Blue Gropers for Robert Connolly and Arenamedia on BLUEBACK – a feature based on Tim Winton's best-selling novel.
Eight years in casting gave Annabel a sharp eye for performance and a knack for discretion. Working on big-budget US productions means she's at ease shooting Australia's most high-profile cast, such as Eric Bana, Abbie Cornish, Joel Edgerton and Chris Hemsworth. Her film experience includes AVATAR, FOOL'S GOLD, 10,000 B.C, DISTURBIA, RED DOG, BOOK OF REVELATIONS, CROCODILE DREAMING, And DIRT MUSIC. She has auditioned cast for series such as TRUE BLOOD, BREAKING BAD and WEEDS, and many TV commercials.
A photographer's daughter, Annabel grew up immersed in the visual arts. An experienced storyteller, her work emits an artistic edge. She shoots with top-of-the-line Canon equipment and also uses a full-spectrum, converted infrared camera. Infrared adds a surreal, fantastical mood to her images and tells a more unusual story than standard photos.
A self-confessed free spirit, Annabel absolutely adores working with animals, and out in nature. In 2017 she combined her landscape and wildlife photo skills, creating Call of the Wild Pet Photography. Passionate about animal rights, she regularly shoots campaigns for brands such as The RSPCA, and fine-art portraits of domestic dogs and cats. She also photographs birds, insects… and even crocodiles.
Friendly and adaptable, Annabel really enjoys working with all types of people and collaborating to make a creative brief sing.