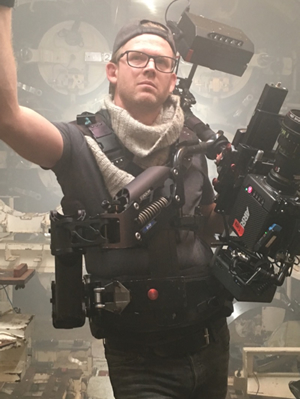 Aaron Foley
Camera Department, Camera Operator, DOP, MOVI, Steadicam
Melbourne
BIO
Aaron Foley is a Cinematographer / Steadicam Operator currently living in Melbourne Australia.
Born in County Victoria (at a very young age), Aaron had an early fascination with storytelling and the moving image.  After several random careers, (including that of a statistician and a professional white water rafting guide), Aaron decided that he was perhaps on the wrong end of a Degree in Psychology and through sheer bloody luck moved into a career in commercial Photography. With a reputation for wildlife, landscape and macro photography Aaron worked for such notable clients as National Geographic, The Smithsonian institution and Tourism Vic.
Seeking further challenges Aaron attended RMIT to study Film and TV. After which he moved into the studio system working as the lead Cinematographer for (then) Australia's largest dedicated green screen studio. When an opportunity to work with more than shades of green arose, Aaron jumped back headfirst into the freelance world.
Aaron shot his first national commercial in 2010 and has since shot multiple TVC's for a wide variety of clients, including Ultratune, ANZ, NAB, Kmart, SBS, Shannons, TAC and BMW amongst others. While he is primarily focused on TVCs, Aaron is also in high demand for branded content and more recently long form documentaries.
In 2011, Aaron was one of the first people in Australia to complete the Tiffen Steadicam Gold 5 day course with inventor Garrett Brown. Aaron Currently is the owner operator of a heavily modified Steadicam Ultra rig (Heaviest rig available). He has multiple Steadicam credits from TVC's, music videos and narrative and finds that working as a cinematographer and a Steadicam operator gives him a unique visual style, a collaboration of movement and art.
Aaron is currently based in Melbourne Australia but is always looking to travel on someone else's dime.
He holds a Bachelors Degree in Film & TV (Screen) from RMIT, multiple misc. degrees, is a member of the Australian Cinematographers Society and The Steadicam Operators Association.
He has a passion for the work, a love for the story and a stubbornness to get the job done right.
You should hire him.