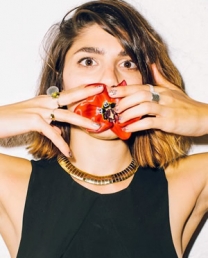 Yvette Paxinos
Animator, Editor, Motion Designer
Sydney
BIO
Paxi is an award winning and multi talented animation designer slash director slash editor. We don't use the term "award winning" lightly, with 3 Promax awards under her belt from the very early stages of her career Paxi has taken off on the video making scene.
She has worked extensively for MTV , the result of that being a colourful portfolio bursting with strong imagery and sprinkled with humour (and occasional nudity).
A list of companies Paxi has worked with since MTV are Jungle Boys, Fuzzy Events, Ivy League Records, Channel 5 (UK), ITV (UK), Knock Knock Productions (UK) and Beautiful (UK).
A strong understanding of broadcast design and a passion for making tv beautiful means it is always a great experience to have her on a project.