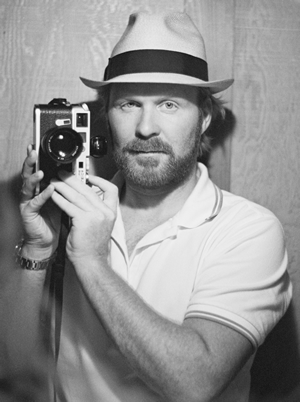 Eric Maddison FSF
Camera Department, Camera Operator, DOP
Melbourne
BIO
I had a huge interest in films as a young kid growing up in the north of Sweden, that led to an obsession to try to master the magic that I love. I made very ambitious amateur films as a young teenager that finally resulted in a full length feature when I was 17. It took 6 months of prep, 3 weeks to shoot and 5 years to edit. It was a huge undertaking that included 25 speaking parts with up to 70 extras and building camera cranes and dollies.
At the same time I saw a documentary about a Danish cinematographer by the name Mikael Salomon who was making a big carer in Hollywood working with Steven Spielberg and James Cameron. I was completely spellbound and the notion that this Danish guy could work with my heroes was a realisation that made me decide that I wanted to be a cinematographer.
I applied to a film school in Stockholm and graduated in 1996. Since then I have worked as a cinematographer in Stockholm Sweden, London UK and most recently 6 years in Los Angeles. I have made 10 feature films, a handful of TV dramas and hundreds of commercials and music videos.
Relevant credits:
Features:
DIG TWO GRAVES
SYNCHRONICITY
BEYOND
30 DAYS OF NIGHT: DARK DAYS
EXIT
THE LISTENING
AT POINT BLANK
Television:
CRAZY, SEXY, COOL: THE TLC STORY (MOW)
MY SUPER PSYCHO SWEET 16: PART 3 (MOW)
MY SUPER PSYCHO SWEET 16: PART 2 (MOW)
CRIMINAL JUSTICE (Season 1)
HOOK (Season 1)
SPACE RACE (Series)
SHORTS: INCORPORATED (Short)
INSEPARABLE (Short)
Commercials (Partial List):
Rolex, Coke, Gillette, Vodafone (*Winner, Gold World Medal NYFF 2007), Lowes, Pepsi, Subaru, Bosch, Nokia, Blue One, Garnier, PGA Tours, Sky Anytime, Douwe Egberts, Always, KMS Goldwell, Rexona, Fleurop, Nortel
Music videos (Partial List):
Timbaland, Common ft. Pharrell Williams, Tiao Cruz ft. Kesha, Broken Bells, Hot Chip, Kate Nash, The Courteeners, Pixie Lott, McLean, Paolo Nutini (*Nominated,UK Music Video Award 2009), Scott Matthews, Leon Jackson, Mutya, McFly