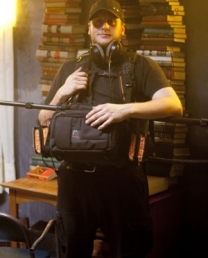 David Marien
Sound Recordist
Melbourne
BIO
David has over 10 years of experience in the sound world. After completing a Bachelor of Audio Production, he worked as a recording engineer and post sound editor in Paris, France for several years.  After moving to Australia in 2010, David refocused his activity
solely on location sound recording for Television, Film and digital media.  Having years of experience in post production makes David undoubtedly proficient at acquiring the needed audio in the field with a comprehensive understanding of the final product.
David works mainly with a Zaxcom Nomad 12-track field recorder, as well as fully digital Zaxcom  wireless microphone systems. The Zaxcom working environment provides very powerful and flexible tools to handle any recording situation successfully. David also values his collection of microphone that enable him to always choose the best microphone for each specific application. Please refer to David's equipment list for further details.
David always displays a professional, efficient but friendly and easy going approach. David is based in Melbourne however his knowledge of French, Italian and German and general enthusiasm make him an excellent travel companion for any show on the road nationally or internationally.
Please do not hesitate to contact me through RMK crew for any additional detail, question or booking information.