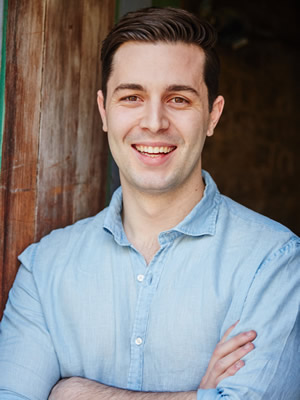 Chris Butel
Camera Operator, Editor, Editor / Shooter
Sydney
BIO
Chris Butel is an award-winning Director, Cinematographer and Editor based in Sydney, Australia.
As a freelance filmmaker Chris works with clients, production companies and agencies to create high quality commercial and branded content pieces.
He has filmed projects across Australia, Europe, Asia and the Middle East and has worked on projects for clients such as Johnson and Johnson, Cohclear, Intel, ITV, Qantas, GSK, Uber and ARIA.
From 2018 – 2019 Chris was the Video Producer at Screen Australia where he produced, filmed and edited videos for Screen Australia's online news publication Screen News as well as its various social platforms.
In 2017 Chris worked on Season 6 of The Voice as Video Producer and Editor for the Digital Team in which he was responsible for creating multiple video and social packages that were released daily on The Voice's social platforms.
From 2013 – 2016 he worked as a Director and Editor for Symmetry Media where he undertook a wide cross-section of roles including: directing, producing, conducting interviews and editing.
As a Cinematographer Chris has operated every modern digital cinema camera system including Alexa, RED, Black Magic Cinema Cameras, Canon C300, Sony FS7 as well as a range of DSLR and mirrorless systems including the Canon 5D, Sony A7s and Panasonic GH5. He is able to light scenes for commercials, interviews and documentaries using both continuous and natural lighting.
As an editor Chris is highly experienced with editing, colour grading, sound mixing and optimizing videos for social platforms utilising the Adobe Creative Cloud suite, AVID Media Composer and DaVinci Resolve.
Chris is incredibly passionate about telling compelling stories and creating beautiful images and he is always looking for exciting new projects to work on so please don't hesitate to get in touch.