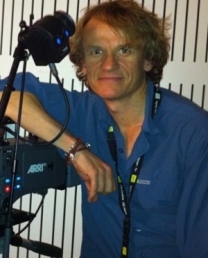 Peter Beeh
Camera Operator, Camera Department, DOP, Aerial
Sydney
BIO
Whenever on set or location, Peter continually draws from his extensive and varied background in cinematography.
With 20+ years experience, you'll mostly find him immersed in commercial, promo, or factual/documentary projects. And he has a bit of a thing for working on films that involve cars, food, observational, natural history, time lapse and aerial cinematography. In addition, Peter boasts growing skills in the field of 3D stereography.
Having travelled throughout Asia, the Americas and Europe, Peter knows what it's like to meet production demands when offshore. He's even spent a couple of years working as a journalist and a producer. As Pete says: "Sometimes the thought of having produced and written feels like a weird blip on my career radar, but understanding of that side of the story-telling fence has simply made for an even better cameraman."
Now thoroughly at home in the digital realm, Peter is one of those rare individuals with an ability to combine creative flare with detailed knowledge of the technical side of digital production. He knows how to extract everything possible out of a format, on set and in post, in order to craft memorable pictures designed to complement a given story or message.
"Peter is a true professional: someone I trust to carry out any of my commercial cinematography needs. His calm, unflappable demeanour puts client, talent and even me at ease! With a vast knowledge and comprehensive kit, Peter is reliable, respectful and resourceful."
Natasha Woolley, Production Manager, EdgeDP
"Thanks for giving us such great pictures to work with."
Glenn Krawczyk, Director, One Small Step/BBC Worldwide
"Pete tirelessly produces results with excellence. He boasts a professional and friendly ethic, critical timeline performance, firm technical knowledge, leading-edge workflow methodologies and creative expertise. I choose to work with Peter on new designs and concepts because he consistently delivers."
Trevor Keightley, EP, Under The Sun Media