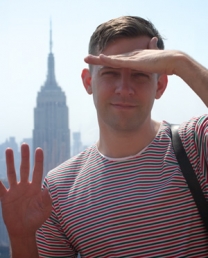 Nils Crompton
Editor, Motion Graphics
Sydney
BIO
I was born to European parents in 1977. Of all places they'd moved to a tiny town called Penguin on Tasmania's north-west coast. There actually were Fairy Penguins living in the town, and If you got up early enough you could watch them emerge from their burrows to go fishing. Living near the sea, I was a very keen, but ultimately pretty average surfer as a teenager. It wasn't till my Dad brought home a VHS camera one school holiday that I found my passion. That summer my friends and I made detective movies, shot entirely with in camera editing.
In 1996 I moved to Hobart to attend The Tasmanian School of Art, the closest thing Tasmania had to a real film school. I studied photography and video, and began editing on Umatic tape edit suites. I made several lego animations spliced together with hundreds of one-frame edits… In the year I graduated I got my first taste of non-linear editing on Premiere 4.2 on the amazing new PowerMacs … exciting times!
After graduating from Art School, I travelled through India and the Middle East, and worked for 6 months in Edinburgh, attending my first major film festival there. When I returned to Australia I moved to Sydney and studied nights at UTS to gain my Masters in Media Arts. During the day I worked in Photographic Labs, which gave me my grounding in colour balancing, film processing, and digital imaging techniques.
At UTS I produced my first short film and had it screened at the old Valhalla Cinema in Glebe, I also became immersed in theory, and actually had an article about Wong Kar-wai published in Metro Magazine.
When I graduated I took a contract position as the interstitials producer at the then brand new Television Sydney at UWS. It was here that I learned the ABCs of broadcast.
After a year at TVS I took a full time editing role at Wax, a very supportive production company located in Surry Hills. I stayed with Wax for over 6 years. They are still a regular client since I've become a freelancer.
So this brings us to today, where I'm very proud to be represented by RMK Crew and I'm looking forward to many many more years in media production.