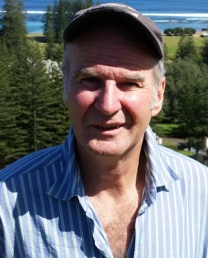 Leo Sullivan
Sound Recordist
Sydney
BIO
LEO SULLIVAN has been working in the Australian Film and Television industry for over 30years and has had experience as an editor, director, producer, sound mixer, camera operator and educator, but is most know for his work as a location sound recordist.
Drama credits include SWEETIE (Jane Campion), The SUM of US (Geoff Burton & Kevin Dowling) and DATING the ENEMY (Megan Simpson Huberman).
Documentary Credits include Graham Chase's "Democracy", 2005 AFI best sound award winner "Vietnam Symphony", "Remembering Rain", doco-drama "Who Killed Dr Bogle & Mrs Chandler" and TV Series "The Nest".
Recent credits include 2010 AFI best documentary winner "You Only Live Twice", "The Making of Modern Australia", "In Their Footsteps"and a co-credit on "Art of Australia" in 2013.
Projects on release this year, include The Great Australian Race Riot for SBS, Gillian Armstrong's Cinema documentary Women He's Undressed and Frantic Family Rescue (ABC).