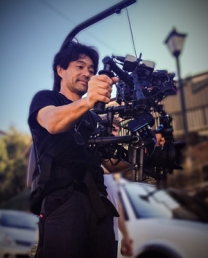 Josh Shimasaki
Camera Operator, Camera Department, MOVI
Sydney
BIO
Yoshuya Shimasaki has worked in the film and television industry as a Camera Operator & Director of Photography for more than 25 years, mainly for Japanese Production and TV Station.
He started to study film making in Tokyo College of Photography in Japan from 1984 and started his career as assistant director at the same time.
He directed one 16 mm short "Blizzard in August" and one feature length 16 mm "My way for Dogs" while studying in school.
"My way for Dogs" was chosen best film of the school and won gold prize in Tokyo visual school festival.
In 1987, He started to concern more about visual direction and became a videographer to learn visual story telling techniques.
Since then he filmed many TV documentaries and, TV Commercials, corporate video and reproduce dramas.
In 1989 he came to Australia as a temporary resident and mainly worked for Japanese TV and commercials, filmed in Australia. In 2000, he got a skilled permanent residence VISA as the director of photography.
He bought Freefly Systems MoVI M10 in November 2013 as one of the first MoVI owners in Australia and had some test and filmed some demonstration clip to make sure perfect set up for real professional shooting.
He is one of few guys who knows how to set up and operate MoVI M10 properly for any cameras that is compatible with MoVI M10.