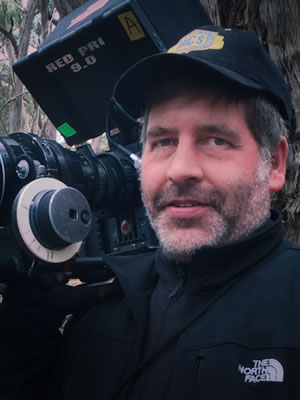 Jonathan Rossiter ACS
Camera Department, DOP
Adelaide
BIO
Jonathan (Jo) Rossiter ACS passion for the craft of cinematography grew from his early Sunday morning television viewings of Gerry Anderson's "ThunderBirds", and the matinee sessions of inspiring movies like Stanley Kubricks "2001, A Space Odessey". The disaster movies of the 1970's – "The Poseidon Adventure", "The Towering Inferno", "Earthquake". The list goes on…
But everything changed with George Lucas's "Star Wars".
Jo commenced his film and television career in Adelaide, at the South Australian Film Corporation in early 1984 deconstructing sets. It wasn't long before he befriended Michael Cusack and Richard Chataway ACS of Anifex and talked them into giving him a job!
Whilst working at Anifex Jo has worn multiple hats as a model maker, project manager, and cinematographer. He has pursued all things camera shooting with everything from 35mm to DSLR with some 19 years of motion control thrown in for good measure too. He has worked on over 500 TVC's over the last 30 years, and shooting for such clients as Mortein, Schmackos, McDonalds, Sony, UOB Bank, Home Hardware, Victoria Tourism, and AirBnB, to name just a few.
Jo has also shot several short films including the multi international award winning "(R)evolution", "Tales From The Powder Room" and "Sleight Of Hand" for which he won the coveted Milli award for ACS 2013 Australian Cinematographer of the Year.