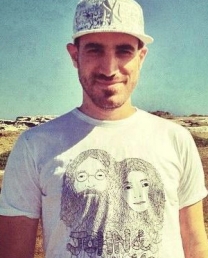 John Cavallaro
Director / DOP, Editor / Shooter, Camera Department, Animator, Director, Editor, DOP, Motion Graphics, Promo Producer
Sydney
BIO
Born in 1982, as a child of the 80's John loved nothing more then to pedal through his neighbourhood on his BMX in florescent board-shorts, limited sunscreen protection and a mandatory stack hat. 20 years later not much has changed except today John wears slightly muted colour shorts and a little more sunscreen. From an early age John showed creative promise as finalist in an international Haiku competition and discovered an aptitude for words, songwriting, and drawings of realistic dolphins.
In high school under the guise of documenting for posterity, John broke several of his rich uncles video cameras as he strapped them to car bonnets, kicked soccer balls into them at velocity and drowned them on splash mountain. Much of his summer holidays was spent working at Sizzler to repay collateral damage from "experimental" film shoots.
Graduating from Martin College in 2000 with a diploma in Business and Graphic Design John became very good at Photoshop and Illustrator. After watching Toy Story John became interested in character animation and in 2003 completed a bachelor of communication design in creative industries at QUT.
Upon spending many months to create a flash friendly website and 200 hours to animate a 30 sec video of a 3d nail screaming in pain, John felt it was suitable metaphor to motivate him to move in the direction of film and motion graphics.
After sending out 200 CV's and not receiving an interview John came to the conclusion that either he was ahead of his time or he didn't have any skills worthy of payment. After 3 months of free labour John managed to work as a freelance Motion Graphics Artist for Graetz Media. Here he learnt After Effects, Editing and continued as a Motion Graphics Artist at Invision Media where he worked with clients for Suncorp, Energex, Boral, Queensland Health, and Golf World.
Since then John has continued to develop as a freelancing Director and Creative Director specialising in Motion Graphics on projects for Comm Bank, Telstra, St George Bank, Samsung, MTV comedy Central, Qantas, Xbox, Dion Lee, Sebastian, Hillsong, C3, Brisbane Marketing, and Brisbane Roar. In this time John studied counselling and a Masters of theology, skills he is adamant every film production team needs.
Always eager to learn and experiment John has continued to develop skills in Story, Screenplay, Documentary, Copy Writing, Music, Sound Design, Fashion and Cinematography. Recently instead of buying a house John invested in a Red Dragon camera and currently runs a boutique production company and recently completed an animation series for children called "Melody and Max", a stop motion animation for "Heart for the Homeless", a 9 part tv documentary series called "Talking To Strangers" and an online documentary Called "The Art of Fighting" which won a Vimeo Staff Pick Award.