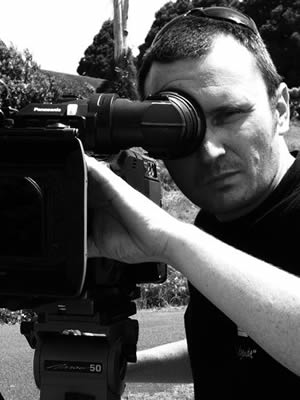 Joe Ward
Camera Operator, Camera Department, Drones, Timelapse
Sydney
BIO
With over 20 years of broadcast experience and an extensive high profile client list, Joseph Ward has developed a reputation for providing high quality and innovative filming and production services. He's been nicknamed the "swiss army knife" of production due to his wide range of skills and the exceptional competency he exhibits.
With 20 years of equipment gathering, Joe has pretty much everything needed for your production, the main tool s of course being the cameras which include:
Sony F5 CineAlta 4K (with Shogun 4K recorder)
Sony FS700 (super slow-mo)
Panasonic HPX3700 (Worlds finest 2/3" EFP camera)
My current "A" camera is the awesome Sony PMW F5, recording 4K ProRes to an Atomos Shogun external recorder or ProRes HD 4444 internally. My lens package features the glorious Fujinon Cabrio 19 – 90mm.
My work spans from big event coverage (Tour de France, Olympics, Commonwealth Games & Rugby World Cup), through to factual, reality, documentary, tourism, live sport, promos, TVC's and music video.
Since the advent of Panasonic's P2 HD cameras in 2006, Joe has kept ahead of the curve in the use and efficient workflows of solid state cameras including Sony SxS, Panasonic P2, Red, Arri and Blackmagic. Joe takes pride and effort in keeping up with the latest in technical advancements in conjunction with a highly developed aesthetics to create innovative solutions for your next project.
In 2016 I've acquired a DJI Phantom 3 Professional drone (4K) and am licensed and insured to fly it. Another new toy is the 360Fly action camera for shooting 360º "virtual reality" videos.
As an avid cyclist and motorcyclist, shooting cycling and other events from a motorcycle has been a natural extension of my shooting skill set. My extensive knowledge of cycling ensures that I can read the race and be in the right place at the right time and more importantly, never in the wrong place! In 12 years I've never been involved in an adverse incident. I've worked on most of the biggest events in the country including:
Sydney City to Surf
Red Bull Wings for Life
Gold Coast Marathon
Santos Women's Tour Down Under
Innumerable days/events of the Subaru National Road Series (2007 – 2015)
I also own a Triumph Sprint ST 1050cc moto modified for shooting, with footplates, microwave link transmitter pole and Autocom comms system. Can provide an experienced moto pilot, as well as two more motos similarly equipped/crewed. While shooting handheld on the moto produces good coverage, I now use my Steadicam mounted Ronin gimbal with Sony F5 for truly spectacular results!