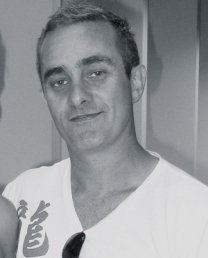 Jason Diffin
Editor
Sydney
BIO
I have been editing for the past 13 years, cutting TVC's, TV series, music videos and short films. Editing is a craft that I love and no matter what the format, to me it is always about telling a story that engages people. Be it in 30 seconds or two hours. That is the challenge that I love. Working with what you have in the time you have….and making it work.
I started my career at Guillotine in Sydney, which is arguably one of Australia's most respected editing houses, in 1997. I started out as an assistant, learning the craft of film editing from acclaimed feature editor Alexandre De Francesci. My training was very much of the old-school variety and I assisted Alexandre on his second feature film, La Spagnola which was a great learning experience on my path to become an editor. I earned my stripes and began cutting Short films, Music videos and TV commercials, working on campaigns for Coke, Daihatsu, Kelloggs, Commonwealth Bank and Gatorade with some of Australias' best Commercial directors such as Mark Molloy, Keir McFarlane, Josh Frizzell, John Curran and Adam Blaiklock.
In 2002 I cut an award wining short film called Everything Goes directed by Andrew Kotatko and starring Hugo Weaving and Abbie Cornish, which went on to win Best Short Film at The 2004 Inside Film Awards and was the only Australian film selected for the Claremont-Ferrand International Short Film Festival 2005.
After five years at Guillotine I ventured into the freelance world where I continued to cut both TVC's and TV series for clients such as the Lifestyle Channel and Channel 4 in the UK.
In 2003 I accepted an opportunity to work in Asia for a year. During this time I worked as an Editor for Finito, Bangkok, cutting TVC's for the Asian and International market. Finito is one of Asia's leading editing houses and I considered it a huge compliment to be offered a position there.
From 2004 until 2009 I was senior editor at Plush Films in Sydney. The majority of my work was on TVC's for clients such as Visa, Ford, Hyundai, AAMI, Coke, Kelloggs and IBM, working with some of Australias' top TVC Directors such as Jonathan Baker, Adrian Hayward, Peter Maguire, Peter Cherry, and Matt Palmer.
During this time I also cut a number of short films, a documentary "Fatbelly" on the life of Chopper Reid and a variety of web-based content.
At the end of 2009 I returned to freelance….cutting TVC's and TV series.
Be great to do some work with you.