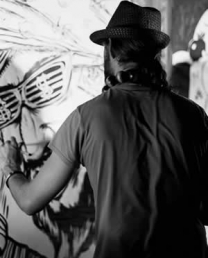 Frederick Venet
Animator, Motion Graphics
Sydney
BIO
I've always been passionate for pictures and how they tell us stories. I naturally integrated an art school in Lyon (France) specialised in illustration, European comic book and animation.
First interested by the comic book field, I finally got out of it with a diploma and a 2D animation short film in 2007. Since then, I started to work for cartoon series as background artist and am now freelancer as 2D animation director and illustrator. I work nowadays mainly on commercials and music video clips as director, animator or designer.
My love for the street art brought me as well on the wall of Paris and made me mix this particular skill with my animations. Indeed, I am as much animator that I am illustrator and street artist. I aim to push the boundaries between the disciplines and try new things through my drawing style.
I'll finish by a quote I heard a long time ago from a cartoon artist interview. I think it explains pretty well what we are:
Interviewer: Since when do you draw?
Cartoon artist: The question is not "since when I draw?", but "when did you stop?"