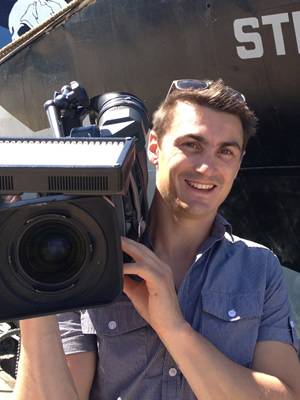 Billy Draper
Camera Operator, Camera Department
Melbourne
BIO
I have been working in the television broadcast industry as an ENG/EFP camera operator and editor for over the past 12 years. During that time I have gone from starting out working in regional television with WIN TV, to working in London for APTN, Al Jazeera and Channel Nine London Bureaus and currently being a Melbourne based freelance camera operator.
I specialize in lifestyle, reality, news, current affairs, corporate and sports OB shooting. Some of my recent credits include Reno Rumble (Channel Nine Production), Australia's Got Talent (Fremantle Media), The Home Team (H Squared Productions), Masterchef (Shine Australia), Australian Open Tennis for ESPN, ABC News & 7:30 Report.
I'm available for hire with Sony F800 kit and also experienced with operating the Sony F5 and Canon C100/300.
Other than being a competent camera operator, my easy going friendly personality, drive for perfection and ability to work well under pressure are qualities that I'm known for.